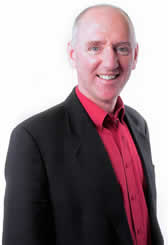 Havening Techniques™ have been developed over the last decade by Drs Ron and Steven Ruden, private medical practitioners based in New York. (See www.havening.org ) 
Their research in brain-science has led them to develop methods for helping people ditch their past traumas, remove anxieties and fears, clear out their unhelpful emotions and 'prime' themselves for better experiences in life.
Havening Techniques™ have only been formally taught to other therapists, medical practitioners and coaches since May 2013, so it would be no surprise if you haven't heard of this amazing development yet.
The method itself includes the healing medium of touch. For many years people have understood the immense value of massage, reiki, Emotional Freedom Technique (EFT), Thought Field Therapy (TFT) and other hands-on therapies.  The exciting and ground-breaking research carried out by Drs Ron and Steven Ruden has shown how we can literally change the landscape of our brains in order to experience life more freely. Through specific forms of gentle reassuring touch combined with mental activities that target the issue to resolve, the brain gets a clear biological signal of being in a safe haven.
The resulting toolkit of approaches blends beautifully with many other methods and approaches, enhancing their effectiveness. They can also easily be taught to people to help them help themselves. 
Tony Burgess was one of the Doctors' very first Certified Practitioners in Havening Techniques™ globally. He is now one of the first to be approved for training others to become certified practitioners in these powerful techniques for use in therapy, medical practice, coaching and personal development.
At the Birmingham Yes Group meeting on Thursday 3rd July, Tony will be sharing how Havening Techniques™ work, you'll see the methods demonstrated and you can also experience some of the benefits for yourself live in the session. This is a first! No other Yes Group meeting in the world has yet secured a live presentation on this remarkable breakthrough in neuroscience!
Tony is Director of Academy of High Achievers Ltd (Aha!) and spends much of his time training professional people developers to use a range of effective tools and approaches to enhance lives. He is also a therapist, coach, trainer, professional speaker, author and firewalk instructor. Find out more about Tony by visiting his websites: www.aha-success.com   www.aha-disc.co.uk   www.ditchyourtrauma.co.uk   www.love2firewalk.com